We have consolidated our position in Spain as a leader in the generation of documents and forms with the highest performance levels.
One more year, our intelligent document generator in Ibermática, iberDok, is consolidated at the top of Aspire's magic quadrant, which evaluates the different CCM (Customer Communications Management) tools existing in the Spanish market. In 2019, after only four years since its creation, our tool was already in this position in the English consulting firm's 'Communication Composition' ranking, and in 2020 it will improve its situation in the quadrant after raising the level of its capabilities even further.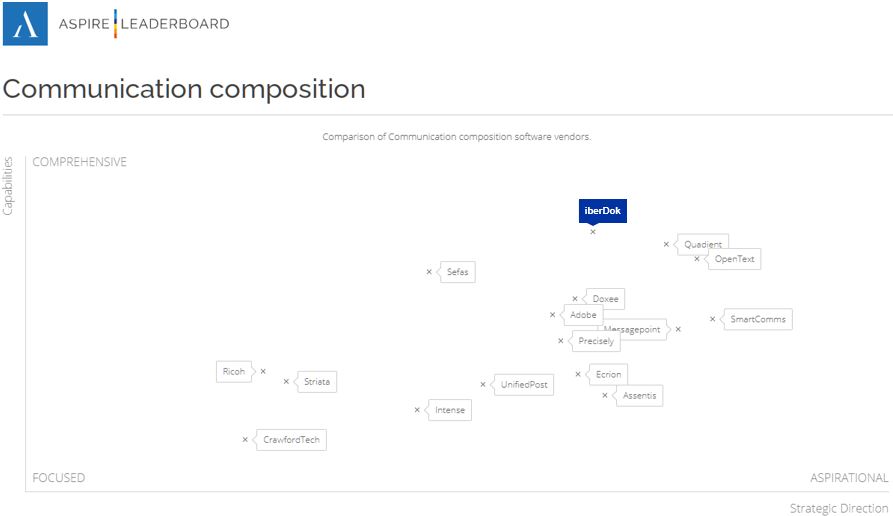 Every year, Aspire Leaderboard configures a classification table that allows potential buyers to compare suppliers of solutions for the management of their customers' communications. This year, after analyzing functionalities, usability, behavior and user experience of different products, it has placed iberDok as one of the leading solutions in this industry, placing it in a more prominent position in its quadrant of 'Communication Composition', which already led the Spanish market in 2019.
For Ibermática, leading this ranking at a national level, and placing us among the leaders of the sector at a global level, has great relevance, because the consultancy measures the capabilities and strategic positioning of the solutions (which allows us to reflect on their quality, detect strengths/weaknesses and know their differentiating values). This year, for example, Aspire has seen a significant evolution in the strategic direction of iberDok.
Our goal is to continue working to improve iberDok through innovation and new technologies (incorporating elements such as Blockchain or Artificial Intelligence) and making the solution a tool with the highest degree of usability in the market, or focusing all its design and interfaces in an optimal customer and user experience.