In these times of uncertainty and chaos, many companies have been forced to cut their marketing budget due to the health crisis that the Covid-19 has produced. Much of the remaining budget is focused on trying to acquire new customers, but why not focus on customer retention and optimize the effectiveness of that budget?
According to McKinsey, more than half of marketing budgets, 55 percent to be exact, are focused on acquiring new customers, while only 12 percent go to future customer retention. Most companies do not provide their customers with a great post-purchase experience, limiting themselves only to standard loyalty programs that are not very effective. As a result, customers do not stay with the company and turn to another competitor for future purchases.
Based on objective data, allocating time, resources and effort to customer retention can be a great strategy for the future. The White House Office of Consumer Affairs has recently published a study showing that acquiring new customers can be up to 7 times more expensive than retaining an existing customer. In turn, Gartner forecasts that about 80% of companies' future profits will come from only 20% of their existing customers.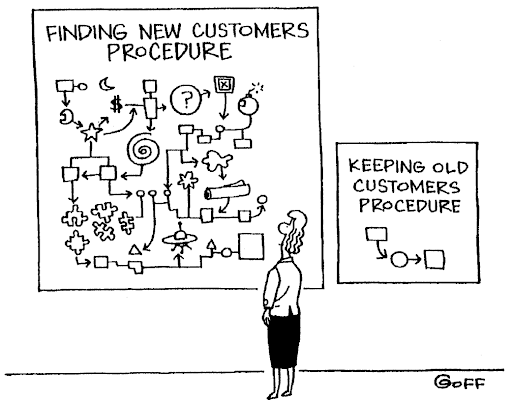 THE STRATEGY CHANGES CAUSED BY COVID-19
The current situation caused by Covid-19 is forcing companies to change their strategy in order to move forward, and to do so it is essential that they begin to provide an unbeatable customer experience in order to increase their loyalty and therefore retain them for a longer period of time. The customer experience is the sum of all the interactions that a customer has with a company throughout the relationship, and each and every one of these points of contact will have an impact on whether the customer decides to buy from the brand or move on to a competitor. If a company wants to increase its customer retention rate, it has to focus its strategy on trying to build a better experience for them.
To create a customer experience that encourages customer retention and future purchases, a company must interact with its customers at the right time with the right messaging; messages that are contextually relevant to the customer's needs at any particular stage of the buyer's journey. The problem is that business technology is outdated and it becomes very laborious and complicated to produce all-channel customer experiences.
However, new platforms like IberDok are enabling companies to overcome this. IberDok helps companies to develop and deliver timely, personalized and relevant omnicanal communications, closing the gap between innovative and legacy IT implementation systems and thus allowing companies to produce a personalized experience that will make them connect more with customers and strengthen their retention rates.
WHAT COULD IBERDOK BRING TO YOUR BUSINESS?
A Customer Communication Management (CCM) platform like IberDok can make the experiences received by customers become higher quality, thus obtaining a higher level of loyalty and making them keep buying in the same place instead of moving to new competitors.
A 5% increase in customer retention can lead to a more than 25% increase in profits (Bain & Co), as regular customers spend on average 33% more than new ones. In addition, based on a study by the research firm of Emmet and Mark Murphy, we can conclude that a 2% increase in customer retention can equal a 10% reduction in costs.
The secret to improving the customer retention rate lies in improving the customer experience, and implementing our Iberdok CCM solution can be the first step to reach that goal.